Hold tight collagen cuties!
These bouncing red berry gummies are ready to nourish your inner beauty. They are packed with collagen peptides to support a youthful complexion, Co Q10 to help the body produce its own collagen , vitamin c to stimulate collagen production and Vitamin A to prevent the breakdown of collagen.
In addition, they are:
Red Berries flavour

Free from artificial sweeteners: they only contain a hint of natural sweeteners, which come from sugar cane

Free from artificial colour
The Ingredients
Collagen Peptides

Collagen is the most abundant protein in the body and is a major component in the skin. As we age our collagen production rate gradually slows as early as early as our 20s, which can lead to fine lines and wrinkles and the skin to lose its firmness. Collagen peptides are known to be easier absorbed by the body. Studies have also shown that collagen peptides support natural collagen levels, reduce fine lines and wrinkles, and improve skin elasticity.
Coenzyme Q10
Coenzyme Q10 (Co Q10) is an antioxidant naturally present in our skin; but our CoQ10 level drops as we age. It keeps skin cells energised, which makes them work better and stay younger. CoQ10 also supports the body to produce collagen and elastin, keeping skin looking youthful.
Vitamin C

Vitamin C is known to support the production of collagen. Its antioxidant properties help fight signs of premature ageing, improving skins overall appearance. (1)
Vitamin A

Vitamin A is known to prevent the breakdown of collagen. It assists in promoting and maintaining healthy skin, and improving its overall appearance. (2)
(1) Vitamin C contributes to normal collagen formation for the normal function of skin
(2) Vitamin A contributes to the maintenance of normal skin
All Ingredients
Glucose Syrup, Sugar, Water, Collagen (Bovine), Gelling Agent (Pectin), Acid (Citric Acid), Vitamin C (Ascorbic Acid), Maltodextrin, Acidity Regulator (Trisodium Citrate), Colour (Anthocyanins), Vegetable Oil (Coconut), Vitamin E (DL-Alpha Tocopheryl Acetate), CoEnzyme Q10, Flavouring, Vitamin A (Retinyl Acetate), Glazing Agent (Carnauba Wax), D-Biotin.
Nutritional information
When to use
Take two tasty gummies per day, with or without food, at whatever time you like: in your car, at home, or as your 3 o'clock snack.
How to Recycle
Container

The clear tub is made from 30% PET material. Why? This material can be recycled over and over again for up to 10 times, which increase its lifecycle.

Cap

The yellow cap is made from non-recyclable plastic. Why? These cute gummies are food supplements and therefore we are required to use a child lock cap. This cap is a standard food safety practice in a lot of countries. As much as possible, we source Earthy friendly packaging but we also make sure to keep little ones safe
Warning & Storage

WARNING: Do not exceed recommended dosage. Gummy colour may change over time due to natural colours. This does not alter the potency of the product. Any clouding of the bottle is normal.
STORAGE: Store in a cool dry place out of direct sunlight. Do not use if seal is broken or missing. Keep out of reach of children. For use by date, please see the bottom of the tub.
United Kingdom 
Standard Delivery: £2.99 - allow 2 - 4 business days.
Express Delivery: £4.99 - allow 1 - 2 business days. 
Free delivery to the UK on orders over £25.
Northern Ireland
£4.99 - allow 2 - 4 business days.
EU (European Union) & Rest of World
Prices will vary.
Reviews
Customer Reviews
Write a Review
Ask a Question
12/01/2023
Leonie M.

New Zealand
Everything i was hoping for
Excellent, communication from order to delivery which was super fast. In regards to the auctual product.. awesome !!! The free gift to sample was amazing and cleared a spot that I shouldn't have at my age in less than 2 days highly recommend and will be placing a repeat order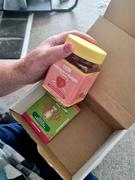 21/12/2022
Keryn C.

New Zealand
5 star
Very good. I will be buying more after Christmas
08/12/2022
Kelsey T.

New Zealand
27/11/2023
Adelina U.

United Kingdom
Love all of them!!!
Literally the best I have tired so far!