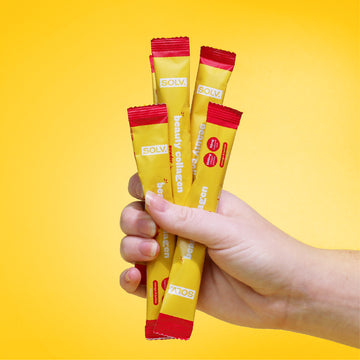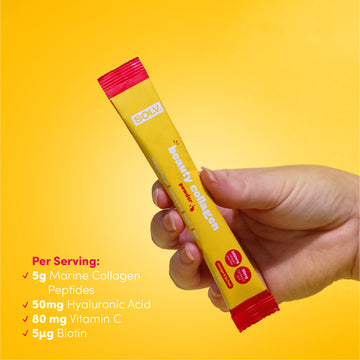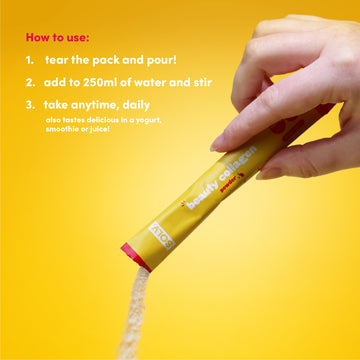 Looking to try SOLV Beauty Collagen powder?
These little stick packs are great if you are a collagen newcomer or look for an easy and on-the-go option to preserve youthful looking skin!
Did you know? From our early 20s, the skin produces less collagen, a protein that's a building block to youthful looking skin. The SOLV. Beauty Collagen is formulated with premium collagen peptides sustainably sourced from fish, hyaluronic acid, vitamin C and biotin. Your skin will feel smoother and firmer and look plumper.
I am soy free, dairy free and gluten free.
The Ingredients
Collagen Peptides

Promotes natural collagen production, keeping skin hydrated and providing a youthful looking glow!
Hyaluronic Acid

Helps maintain skin moisture levels! Acts like a sponge holding up to 1000x its own weight in water. Plumping your skin from the inside out.
Vitamin C

Promotes youthful looking skin by supporting collagen production and improving skins overall appearance.
Biotin

Supports healthy skin by the creation of fatty acids essential for cell health and new cell creation to plump your skin up.
Zinc

Plays an important role in cell growth and repair!
Vitamin A (Retinol)

Speeds up cell turnover keeping skin looking youthful.
All Ingredients
Peptan® Hydrolysed Fish Collagen, Maltodextrin, Natural Flavours, Acid (Citric Acid), Vitamin C (Ascorbic Acid), Hyaluronic Acid, Zinc Citrate Trihydrate, Sweetener (Sucralose), Colour (Beta Carotene), Vitamin A (Retinol Acetate), Biotin.
Nutritional Information

Who It's Perfect For
Adults 18+
All Skin types
How to Use and Recycle
When to use:
Mix one sachet (7.5g) of powder with 250ml water and consume daily. Use any time of the day.
Delivery Information
New Zealand

Standard Delivery: $4.99 - allow 1 - 3 business days.
Australia

Standard Delivery: $9.99 - allow 3 - 5 business days.
United Kingdom 
Standard Delivery: £1.99 - allow 2 - 4 business days.
Express Delivery: £4.99 - allow 1 - 2 business days. 
Free delivery to the UK on orders over £25.
Northern Ireland
£4.99 - allow 2 - 4 business days.
Reviews
Customer Reviews
Write a Review
Ask a Question
16/03/2023
Jennifer W.

United Kingdom
I wish they were available in a 30 Day sample pack! ! !
08/03/2023
Jennifer W.

United Kingdom
LOVELY
100% HAPPY Wish I could purchase these sample sachets in a 30 Day pack!
25/01/2023
Sarah A.

New Zealand
Taste
I wasn't really a fan of the taste of these samples. It would have been good if it was a mixture of all 3 flavors. Probably will get unflavored due to not being sure if I'll like the peach one too