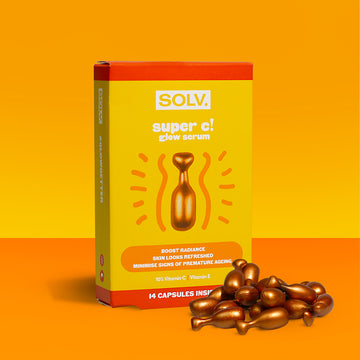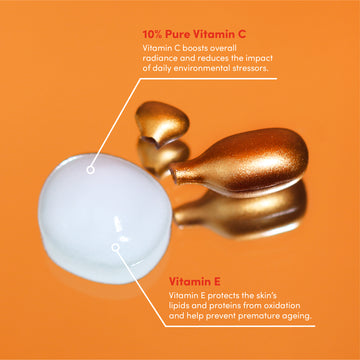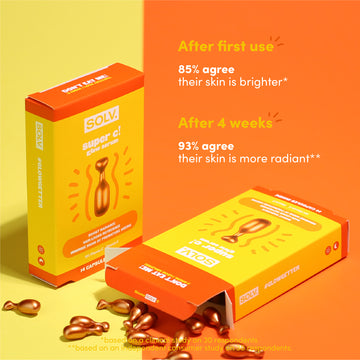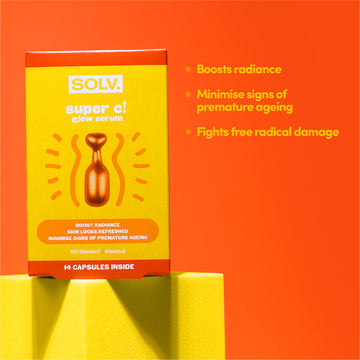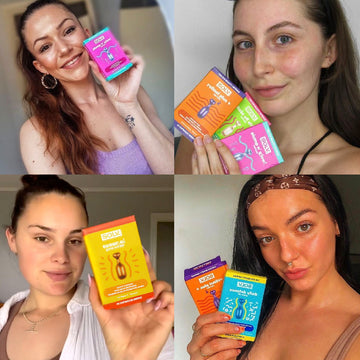 BOOST RADIANCE & MINIMISE SIGNS OF PREMATURE AGEING.

No excuses, just glow!
This supercharged serum is packed with 10% pure Vitamin C to promote a more radiant complexion. Vitamin C's potent antioxidant properties help fight against visible signs of premature ageing, protect against daily environmental stressors, and minimise signs of photo damage. 10% Pure Vitamin C is the perfect percentage for all skin types including sensitive as it is potent enough to maximise the benefits but mild enough to not cause irritation. The formulation is combined with vitamin C's perfect partner Vitamin E, which stabilises vitamin C for maximum protection whilst also increasing its effectiveness. Together both vitamins can provide double protection against free radical damage. Overall, this capsule is designed to help restore natural, healthy, and glowing skin.
The result? Skin with an ultimate youthful glow.
I am vegan, cruelty-free and biodegradable
The Ingredients
10% Pure Vitamin C
Vitamin C is a potent antioxidant that is known to boost overall radiance and reduce the impact of daily environmental stressors.
Vitamin E
Vitamin E protects the skin's lipids and proteins from oxidation and help prevent premature ageing.
All Ingredients
Dimethicone, Ascorbic Acid, Dimethicone/Vinyl Dimethicone Crosspolymer, Dimethiconol, Tocopheryl Acetate, Diethylhexyl Syringylidenemalonate,
Caprylic/Capric Triglyceride.
Who It's Perfect For
Skin types:
Normal skin
Dry skin
Sensitive skin
Oily, combination skin
Concerns:
Dullness

Tired-Looking Skin

Premature ageing / Fine lines & wrinkles
How it Works Wonders
We asked a group of consumers to use the super - c glow serum capsules every day and:
85% agree their skin is brighter after first use*
93% agree their skin is more radiant after 4 weeks**
85% agree their wrinkles are less visible after 4 weeks**
*based on a clinical evaluation
**based on a subjective consumer evaluation
How to Use and Recycle
When to use:
Use in the morning and/ or evening, on cleansed skin. Pair it with other SOLV. serum capsules and follow with your fav moisturiser. Use with an SPF15 or higher during the day.
For even better results, use once a day for at least 4 weeks.
How to use:
How to recycle:
My capsule shell is fully biodegradable, just throw them in the general waste or your compost bin!
We are recycling our blister packaging with Terracycle® via their Zero Waste Box™ solution. Simply send us your empty blisters at: SOLV./ Vector Consumer Ltd, 24 Valley road business park, Merseyside CH41 7EL, England and we'll do the rest!
My carton is printed using vegetable ink and can be recycled on the kerbside.
Give it a second life:
The outer shell of each capsule is made of seaweed: dissolve the shell in boiling water then once cooled, feed it to your plant!
Delivery Information
New Zealand

Standard Delivery: $4.99 - allow 1 - 3 business days.
Australia

Standard Delivery: $9.99 - allow 3 - 5 business days.
United Kingdom 
Standard Delivery: £1.99 - allow 2 - 4 business days.
Express Delivery: £4.99 - allow 1 - 2 business days. 
Free delivery to the UK on orders over £25.
Northern Ireland
£4.99 - allow 2 - 4 business days.
EU (European Union) & Rest of World
Prices will vary.